Oral Plus – Oral Suspending Vehicle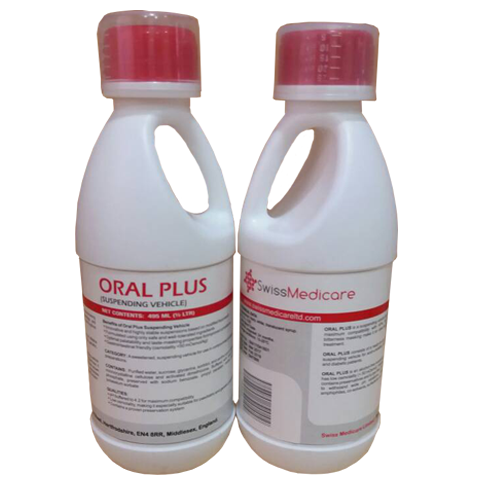 Oral Plus is a flavored oral suspending vehicle used to simplify the process involved in the extemporaneous compounding of oral suspensions. Medicated powder can be incorporated into OralPlus to form elegant, uniform and physically stable suspensions.
Ingredients
Purified water, Sucrose, Thickening agent (E460, E466, E415), Buffering agents (E399, E330), Preservatives (E211,E217, E219, E202) and antifoaming agents : Dimethicone.
How to Use
Oral Plus can be used in combination with anyflavouring Syrup.
Nutrition Facts
Syrup Serving Size: 1 Serving (50ml approx.)

Serving per container: approx 10

Approximate Composition per serving (50ml)
Approximate Composition per serving (500ml)
Energy
42 KJ/10 kcal
420 KJ/10 kcal
Total Carbohydrate
2.5g
25g
Sucrose
2.5g
25g